Übersetzungs-Terroirs
Ostasien zwischen indigenen und europäischen kartografischen Sprachen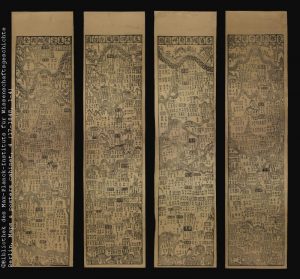 Karten mit gemeinsamen kartografischen Konventionen und metrischen Eigenschaften sind unabhängig von der Sprache ihrer Ortsnamen verständlich, während die Übersetzung von Ortsnamen und Legenden für das Verständnis von "fremden" kartografischen Darstellungen wenig hilfreich ist.
Das Projekt zielt auf die Präzedenzfälle von Fusionen grundsätzlich verschiedener kartografischer Sprachen: die Kartierung von Ostasien durch indigene und europäische Kartografien, welche seit dem frühen 16. Jh. in einem reziproken Übersetzungsprozess stehen. Die Analyse konzentriert sich auf die Sicht historischer Akteure im Spannungsverhältnis zwischen unübersetzbaren Elementen (inkl. ganzer Karten) und für notwendig empfundenen Ergänzungen bzw. Änderungen.
Die ausgewählten kartografischen Quellen sind der Fachgemeinschaft bisher wenig bekannt. Zu ihnen zählen insbesondere die kürzlich vom MPIWG akquirierten gedruckten Karten sowie handgezeichnete Karten in der Sammlung der SUB Göttingen.
Diese Studie arbeitet mit formalen, sich an moderne Techniken der kartometrischen Analyse und der mathematischen Modellierung anlehnenden Methoden und bezieht dabei Techniken zur Analyse der Materialität von Karten ein. Das Ziel ist, eine Filiation von verwandten Karten fundiert zu rekonstruieren, um neben anderen Eigenschaften feine Beziehungen zwischen gegenseitig übersetzten Karten explizit zu machen.
Das dreijährige Projekt ist am MPIWG angesiedelt, wo es von einem hochqualifizierten IT-Team profitiert. Es basiert auf einer Kooperation von Prof. Dr. Dagmar Schäfer (Direktorin des MPIWG Dept. III), Dr. Vera Dorofeeva-Lichtmann (CNRS, Frankreich) und Prof. Dr. Yang Yulei (Zhejiang University, VRC).
Projektwebseite am Max-Planck-Institut für Wissenschaftsgeschichte.
Publikationen (projektbezogen):
Dorofeeva-Lichtmann, Vera. 2020. A Manuscript Japanese World Map (1886) from the Banco Santos Collection (São Paulo, Brazil): De-centred Ways of Knowledge Transmission. In ROTAS, MAPAS & INTERCÂMBIOS DA HISTÓRIA DA CIÊNCIA, Hrsg. Ana-Maria Alfonso-Goldfarb, José-Luiz Goldfarb, Márcia H. M. Ferraz, Silvia I. Waisse und Luciana Costa Thomaz, 25–45. São Paulo: EDUC—Editora da PUC-SP.
Dorofeeva-Lichtmann, Vera. 2019. Mapping Asia: Cartographic Encounters between East and West. Regional Symposium of the ICA Commission on the History of Cartography, 2017, Hrsg. Martijn Storms, Mario Cams und Imre Josef Demhardt. Imago Mundi 71 (2): 219–220.
Dorofeeva-Lichtmann, Vera. 2019 (revised 2009). Ritual Practices for Constructing Terrestrial Space (Warring States-Early Han). In Early Chinese Religion, Part One. Shang through Han (1250 BC-220 AD) (2 vols.), Hrsg. John Lagerwey und Marc Kalinowski, 595–644. Leiden, Boston: Brill.
Dorofeeva-Lichtmann, Vera. 2019. "Inversed Cosmographs" in Late East Asian Cartography and the Atlas Production Trend. In East-West Encounter in the Science of Heaven and Earth 天と地の科学, Hrsg. Tokimasa Takeda 武田時昌 und Bill M. Mak 麥文彪, 144–174. Kyoto: Institute for Research in Humanities, Kyoto University 京都大學人文科學研究所.
Schäfer, Dagmar. 2020. The History of Science in a World of Readers. Berlin: epubli.
Schäfer, Dagmar, Shih-pei Chen und Qun Che. 2020. What is Local Knowledge? Digital Humanities and Yuan Dynasty Disasters in Imperial China's Local Gazetteers. Journal of Chinese History 中國歷史學刊 4 (2): 391–429.
Schäfer, Dagmar. 2019. Things (Wu) and Their Transformations (Zaowu) in the Late Ming Dynasty. Song Yingxing's and Huang Cheng's Approaches to Mobilizing Craft Knowledge. In Entangled itineraries. Materials, practices, and knowledge across Eurasia, Hrsg. Pamela H. Smith, 63–78. Pittsburgh Pa.: University of Pittsburgh Press.
Schäfer, Dagmar und Florence Hsia. 2019. History of Science, Technology, and Medicine. A Second Look at Joseph Needham. Isis 110 (1): 94–99.
Yang, Yulei 杨雨蕾. 2020. 从边地到胜境:图绘明清山海关地区 From Border District to Beauty Spot: Mapping Shanhaiguan Area in Ming and Qing Dynasty, in Xingxiang shixue形象史学. Image Historical Studies, Beijing: Social Sciences Academic Press 26: 302–313.
Yang, Yulei 杨雨蕾. 2019. Jiqing Ducheng kongjian: Chaoxian caihui ben Beijing chengshi ditu 寄情都城空间:朝鲜彩绘本北京城市地图 (On Korean Colored Maps of Beijing in the Qing Dynasty). Lishi dili 历史地理. Historical Geography journal, Shanghai: Shanghai People's Press 38: 269–285.
Yang, Yulei 杨雨蕾. 2019. "'Honil Kangri Yeokdae Gukdo Jido' de tu ben xingzhi he huizhi mudi"《混一疆理历代国都之图》的图本性质和绘制目的 (Essence of Honil Kangri Yeokdae Gukdo Jido and Purpose of Its Mapmaking), Jianghai xuekan 江海学刊. Jiang Hai Academic Journal 2019 (2): 172-180, 255.