Scientific Knowledge and Western European Travel Writing on Africa in Translation, 1600–1820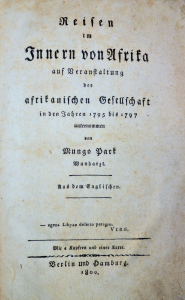 This project will study translations of travel accounts about Africa which were published in four language regions (English, French, German, and Dutch) between 1600 and 1820, in order to consider how they shaped people's knowledge of a continent that was still largely uncharted in Western Europe well into the late Enlightenment. The timeframe reflects a period which saw translation accelerating the exchange of knowledge across Great Britain, France, and the German- and Dutch-speaking regions, with scientific travel writing playing a central role in this phenomenon. The geographical focus on Africa is significant: for most of the period covered by this project, the continent was still associated with notions of 'strange' and 'exotic', long after large parts of Asia and the Americas had been integrated into European ideas of the 'known' world. To date, there has been no large-scale comparative study of Western European writing on Africa from the start of the seventeenth century to the close of the 'long eighteenth century' that traces how the translation of travel writing brought gains in scientific knowledge about the continent. Using insights from translation studies and the history of science, this project investigates the contribution made by translation to the creation of scientific knowledge and examines how Early Modern societies reflected on the translator's role in mobilizing ideas for an emerging global knowledge society.
The project is based at the Johannes Gutenberg University Mainz (Germersheim campus), where it is led and researched by Professor Alison E. Martin. Jente Azou and Mónica Martínez Gómez are working on the project as research assistants.