The Welsh Contribution to the Early Modern Cultures of Translation
16th Century Strategies of Translating into Welsh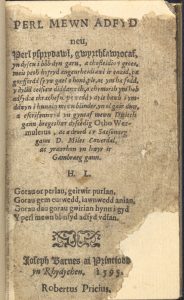 Welsh translation of the English
translation of O. Werdmüller's 'Kleinot'
The project undertakes the first systematic and text-based survey and contextualisation of the culture(s) of translation in sixteenth-century Wales (c. 1509–1615). This period is characterised by the translation mainly of Saints' Lives at the beginning of the century, followed by the formative Welsh translations of the New Testament (and the catechism) by William Salesbury (1567) and of the complete Bible by William Morgan (1588) and by the translations of a large variety of predominantly religious-didactic Protestant and Catholic literature as well as of some antique and humanist authors. In its methodology, the project is conceptually indebted to approaches in translation studies which focus on the hermeneutic, pragmatic and functional character of processes of translation, and builds on fine-grained linguistic analyses of the texts. These are complemented by in-depth studies of relevant paratexts, for example in dedications and prefaces, which can provide valuable information on translators' approaches, motivations, and intentions.
Principal researchers are Dr Elena Parina and Prof Erich Poppe, FB 10, Comparative Linguistics and Celtic Studies, University of Marburg.
Project website at the university Marburg.
Publications (project-related):