Transcultural Yiddish Translation between Christians and Jews in the Context of the 18th Century Pietist Mission to the Jews of Germany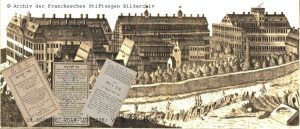 In the Early Modern Period, numerous translations of European texts appeared in Jewish languages. These translations present a field of encounters between Jews and Christians that has remained almost completely unexplored. The project investigates this field, and in particular the role of converts and missionaries as translators. The source materials comprise translations into Yiddish, and to some extent also into Hebrew, which were produced for purposes of the Pietist missionary work among the Jews. The analysis focuses on the mechanisms of Christian-Jewish cultural transfer that occurred in Early Modern Europe by means of such translation activity.
The project is housed at the Institute for Judaic Studies at Goethe University Frankfurt, and is conducted by Avi Siluk under the direction of Prof Dr Rebekka Voß. The project runs in cooperation with the ERC project, 'Jewish Translation and Cultural Transfer in Early Modern Europe', directed by Dr Iris Idelson-Shein (BGU Beer Sheva, Israel).
Project website at the Goethe-University Frankfurt.
Publications (project-related):