Translational Dimensions of French Encyclopaedism in the Age of Enlightenment (1680–1800)
Knowledge Transfer, Mediators, Intercultural Processes of Appropriation and Adaption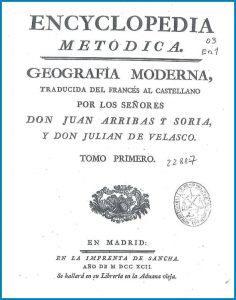 Against the background of the encyclopaedia as one of the leading media of the 18th century on the one hand and its transnational contexts of creation on the other, the research project examines the role that translation processes played for the formation of a European knowledge and communication space in the Age of Enlightenment. Four perspectives are at the centre:
1. the systematic recording of all (linguistic) translations of encyclopaedic texts, including information on original versions, translators, editors and prefaces,
2. processes of cultural adaptation, appropriation and autonomisation taking place in individual translation projects,
3. the meaning of translators as intercultural mediators and important actors in the context of the transmission of encyclopaedic knowledge, and
4. the investigation of the role that translations played in the editing of country-specific lemmas of the most important French encyclopaedia of the Enlightenment: Diderot's and D'Alembert's Encyclopédie.
Project directors are PD Dr habil Susanne Greilich at Regensburg University and Prof Dr Hans-Jürgen Lüsebrink at Saarland University, both specialised in Romance philology.
Project description of the Saarland University
Publications (project-related):
Hans-Jürgen Lüsebrink: L'Encyclopédie méthodique en Allemagne (1782-1815). Approches d'une traduction transculturelle. In: Panckoucke et l'Encyclopédie méthodique. Ordre de matières et transversalité, hrsg. von Martine Groult und Luigi Delia, avec la coll. de Claire Fauvergue. Paris 2019, S. 61-79.
Hans-Jürgen Lüsebrink: Charles de Villers traducteur, médiateur interculturel et auteur traduit. In: Un homme, deux cultures. Charles de Villers entre France et Allemagne (1765-1815), hrsg. von Nicolas Brucker/Franziska Meier: Paris 2019, S. 25-41.